Fishing
Fishing is fun! If you're looking for a fishing resource that gives easy to learn techniques and tips on fishing for beginners, fishing fundamentals, and techniques of fishing, then you've come to the right place.
Fishing Nasty Northern Pike
By Jack Phillips
Finding and catching small northern pike is relatively easy. They spend most of their time in shallow, weedy areas from 2 to 15 feet deep. But catching those nasty monster northern pike is not as simple. They are found among the smaller pike during the spring, but as it warms up in the summer they move into deeper water, 15 to 30 feet or more. Fishing for these big fish becomes more difficult because they are more scattered. Summer angling for northern pike is also difficult if the water becomes too warm. If pike cannot find cooler water they do not eat as frequently or eat very little.


Northern pike are best fished during the daylight hours. They are rarely caught while fishing later at night but it does happen.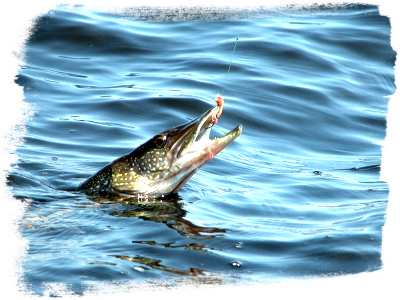 The mature northern pike generally stay in one area, hiding in weedy cover waiting for that bait fish or hopefully your enticing lure or bait. Typically northern pike lay motionless waiting in ambush in the weeds or near submerged cover like logs or rocks. Then they like to make short vicious lunges at passing baite fish and again your enticing offering. They can live in almost any freshwater environment.
Inlets and bays on the larger lakes or even the Great Lakes in Canada and the US harbor large numbers of large northern pike. These bays have slightly warmer water and more food than the open water.
Smaller northern lakes of the Canadian Shield can grow trophy northern pike, usually because they do not have the heavy fishing pressure of the southern lakes, they survive longer and grow to trophy size.